Activating Your Website
Downloading & Installing Plugins
If you have already downloaded and installed the WP Videos plugin, VS Netflix Theme and / or WP Video Memberships plugin, you can skip this step.
Download and Install the WP Videos plugin into your WordPress dashboard:
You can download the VS Netflix Theme and WP Video Memberships plugin from within your account dashboard on wpvideosubscriptions.com
Login to WP Video Subscriptions
Installing Plugin and Theme Zip Files
Login to your WordPress Dashboard and find the Plugins menu on the left side of the screen: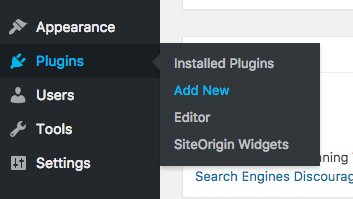 You can also Add New from the top of the Plugins admin page:
You then want to find the Upload Plugin button at the top of the page:

Click the Upload Plugin button. You should then see this screen:

Find the plugin .zip file you would like to upload and press the Install Now button.
*These will be the downloaded .zip files from links provided above.
You will then be able to Activate the plugins right away, or from the Plugins admin page:

Activating WP Video Subscriptions
Once you have activated the WP Videos plugin, find the Activation tab under the WP Videos admin menu item: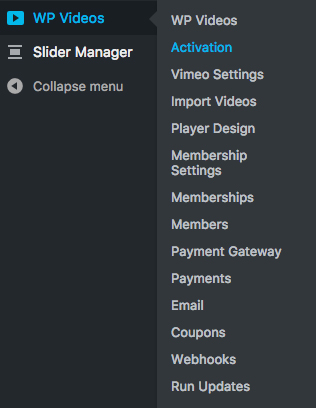 You should then see a page like this:

Input your own Email and Password that was used to create your account on wpvideosubscriptions.com
Then press the Activate button. Your website should then be activated.

Reasons Your Website Won't Activate
Website activation limit reached
If you see this message, login to WP Video Subscriptions and find the Subscriptions tab in your account.
Click on the Website URLs tab to display any websites that may already be active. If there is a website URL there that does not match the URL you are trying to activate on, simply remove it using the red trash can icon.
You can then Activate your new website URL from within your WordPress dashboard.
Note: If you update your website from HTTP to HTTPS, you will need to remove the old HTTP website url from your Website URLs and reactivate using the new HTTPS address.
No Subscription or Trial Period Expired
If you still cannot Activate your website, please check your Subscriptions page within your account on WP Video Subscriptions.